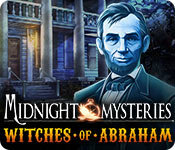 Midnight Mysteries: Witches of Abraham Game Overview
For the past few years, you've been writing bestselling novels based on the stories you've heard told by the ghosts who visit you at midnight. But tonight you have a special visitor, Abraham Lincoln, the 16th President of the United States! He wants you to go back in time and find the treasure of the Knights of the Golden Circle, a secret Confederate order, before Lincoln's enemies do! Follow the clues, while learning trivia about famous people and places from the American Civil War in this fascinating Hidden Object Puzzle Adventure game.
Check out our Blog Walkthrough
Get the Strategy Guide!
For a more in depth experience, check out the Collector's Edition
Here at White Fuzzy Games Midnight Mysteries: Witches of Abraham is available for free download. You can play the downloaded copy of the game with full experiance for 60 minutes for free. After that you are to decide whether you liked Midnight Mysteries: Witches of Abraham and if you would like to purchase it.
Please write your impressions and thoughts about Midnight Mysteries: Witches of Abraham on the reviews page, and they will be published here on this page.