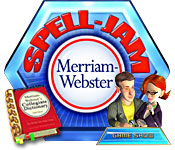 Merriam Websters Spell-Jam Game Overview
Spelling has never been this much fun! Improve your word prowess and prepare to be the next Spelling Bee Champion! Get the whole family in on the exciting action with a Multiplayer game. With 3 exciting game modes to choose from and thousands of words to spell, Merriam Webster's Spell-Jam has something for everyone.
1000's of words.
Family-friendly fun.
Improve your spelling!
Here at White Fuzzy Games Merriam Websters Spell-Jam is available for free download. You can play the downloaded copy of the game with full experiance for 60 minutes for free. After that you are to decide whether you liked Merriam Websters Spell-Jam and if you would like to purchase it.
Please write your impressions and thoughts about Merriam Websters Spell-Jam on the reviews page, and they will be published here on this page.