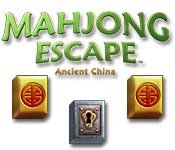 Mahjong Escape Ancient China Game Overview
Your adventure begins over 4000 years ago in Ancient China. Match the Magic Gold tiles and travel through 11 Dynasties, unlocking ancient wisdom on your way to collect the lost Dynasty treasures. Includes two ways to play: Dynasty Adventure & Classic Mah Jong solitaire. Enjoy over 175 unique levels. Escape today!
Over 175 unique layouts
Journey through 4000 years collecting treasure
Classic Mah Jong Solitaire with 3 difficulty level
Here at White Fuzzy Games Mahjong Escape Ancient China is available for free download. You can play the downloaded copy of the game with full experiance for 60 minutes for free. After that you are to decide whether you liked Mahjong Escape Ancient China and if you would like to purchase it.
Please write your impressions and thoughts about Mahjong Escape Ancient China on the reviews page, and they will be published here on this page.