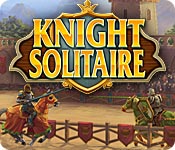 Knight Solitaire Game Overview
Become the champion of a royal tournament! Travel through 12 luxurious locations and enjoy entertaining gameplay set in a medieval setting. Choose from several game modes to tailor the game's difficulties. For daring players, challenge yourself with special achievements and trophies. Make chains of cards, use bonuses, and get real royal rewards! Outplay your rivals and win the kingdom's grand prize!
More than 100 levels!
Entertaining solitaire gameplay
High-quality graphics and relaxing music
Here at White Fuzzy Games Knight Solitaire is available for free download. You can play the downloaded copy of the game with full experiance for 60 minutes for free. After that you are to decide whether you liked Knight Solitaire and if you would like to purchase it.
Please write your impressions and thoughts about Knight Solitaire on the reviews page, and they will be published here on this page.