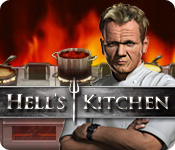 Hell's Kitchen Game Overview
Join world-renowned chef Gordon Ramsay inside Hell`s Kitchen as he puts aspiring chefs through a rigorous culinary boot camp. Experience the show`s pressure cooker atmosphere by entering a series of kitchen and dining room challenges. You`ll need to master each Time Management test to progress. Each meal is scored by the famous Gordon Ramsay himself. Do you have the talent to be a "five-star" chef in the hottest kitchen in town? Enter the fiery double doors of Hell`s Kitchen and find out.
From the hit U.S. TV show
Recipes from the U.S. TV show
Test your culinary skills
Here at White Fuzzy Games Hell's Kitchen is available for free download. You can play the downloaded copy of the game with full experiance for 60 minutes for free. After that you are to decide whether you liked Hell's Kitchen and if you would like to purchase it.
Please write your impressions and thoughts about Hell's Kitchen on the reviews page, and they will be published here on this page.