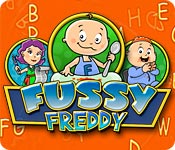 Fussy Freddy Game Overview
Fussy Freddy wants to eat baby food forever. After turning up his nose at eggs, hot dogs, and spaghetti, an emergency call to Grandma is needed. Following her suggestion, you offer Fussy Freddy a little bit of alphabet soup. Use letters to spell words in Freddy`s bowl. You must keep him entertained or he`ll throw a fit and become malnourished. Fussy Freddy is an educational word game with a fun, inspirational tutorial.
Fun Word game
Build spelling skills
Help Freddy eat and grow
Here at White Fuzzy Games Fussy Freddy is available for free download. You can play the downloaded copy of the game with full experiance for 60 minutes for free. After that you are to decide whether you liked Fussy Freddy and if you would like to purchase it.
Please write your impressions and thoughts about Fussy Freddy on the reviews page, and they will be published here on this page.