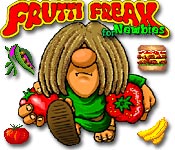 Frutti Freak for Newbies Game Overview
In this jump-and-run game for kids and casual gamers, you collect fruit and clean up the jungle by eliminating unhealthy food and other things. You'll meet the most extraordinary opponents: a target-tracking fried chicken, roast suckling pigs running wild, and fire-summoning shamans all will try to stop you. A simple level structure and a moderate rise in difficulty across levels provide players with many successes throughout the game.
Many fun levels.
Colorful adventure fun.
A game and a meal in one!
Here at White Fuzzy Games Frutti Freak for Newbies is available for free download. You can play the downloaded copy of the game with full experiance for 60 minutes for free. After that you are to decide whether you liked Frutti Freak for Newbies and if you would like to purchase it.
Please write your impressions and thoughts about Frutti Freak for Newbies on the reviews page, and they will be published here on this page.