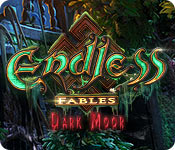 Endless Fables: Dark Moor Game Overview
Sunward Games proudly present the latest thrilling chapter in their Endless Fables series! Your niece has been captured by a banshee, and you'll need to unlock the secrets of MacConnell Island to save her. Navigate your way through terrifying creatures and mind-bending puzzles to find your niece and solve the mystery of the banshee, before it's too late. Can you uncover the truth? Find out in this heart-pounding hidden-object puzzle adventure game!
Check out our Blog Walkthrough
For a more in depth experience, check out the Collector's Edition
Here at White Fuzzy Games Endless Fables: Dark Moor is available for free download. You can play the downloaded copy of the game with full experiance for 60 minutes for free. After that you are to decide whether you liked Endless Fables: Dark Moor and if you would like to purchase it.
Please write your impressions and thoughts about Endless Fables: Dark Moor on the reviews page, and they will be published here on this page.