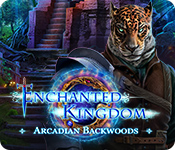 Enchanted Kingdom: Arcadian Backwoods Game Overview
Domini Games invites you on a new magical quest in the latest installment of the Enchanted Kingdom series! Welcome to the land of Arcadia! It's been nearly 100 years since the greatest battle between the Arcadians and the Kinzuls, and all that remains of the Kinzul Empire are fables and myths… Or so everyone thought. Reports of Kinzul sightings in the Arcadian Forrest have reached your Academy, and it's up to you to investigate! Your quest quickly takes a dark turn when you find mystical warriors with old scores to settle and a leader bent on the world's destruction! Can you work with demigods and stop the Kinzuls from regaining their former glory? Find out in this exhilarating Hidden-Object Puzzle adventure!
Check out our Blog Walkthrough
For a more in depth experience, check out the Collector's Edition
Here at White Fuzzy Games Enchanted Kingdom: Arcadian Backwoods is available for free download. You can play the downloaded copy of the game with full experiance for 60 minutes for free. After that you are to decide whether you liked Enchanted Kingdom: Arcadian Backwoods and if you would like to purchase it.
Please write your impressions and thoughts about Enchanted Kingdom: Arcadian Backwoods on the reviews page, and they will be published here on this page.