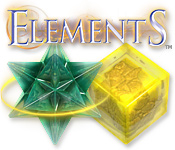 Elements Game Overview
The discovery of the `Alchemy Treatise` by Leonardo Da Vinci provides an incomplete formula for creating the Elixir of Life. Follow the clues left by Da Vinci`s assistant on a scientific swap-and-match adventure using the four elements: Water, Earth, Fire, Air and an unknown fifth element. Swap elemental gems to make matches of the same type and size to merge and distill each element. As you distill each element, the energy created unlocks new combinations of gems using the five elements.
Spectacular backgrounds.
Unique gameplay to master.
Discover secret formulas.
Here at White Fuzzy Games Elements is available for free download. You can play the downloaded copy of the game with full experiance for 60 minutes for free. After that you are to decide whether you liked Elements and if you would like to purchase it.
Please write your impressions and thoughts about Elements on the reviews page, and they will be published here on this page.