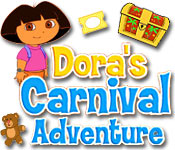 Doras Carnival Adventure Game Overview
In this magical Nickelodeon game, your children will join Dora in her latest adventure at the carnival. Here, kids can play ten games with Dora and friends, win tickets for prizes, and keep the tickets in personalized treasure chests for extended play! Your children will delight in the game play and while they're having fun, they'll learn too - this game improves counting skills, hand-eye coordination, and memory skills. Ready to make your toddler's day? Order this game now!
Sure to delight the child in your life
Improves hand-eye coordination and memory skills
A smash-hit from Nickelodeon
Here at White Fuzzy Games Doras Carnival Adventure is available for free download. You can play the downloaded copy of the game with full experiance for 60 minutes for free. After that you are to decide whether you liked Doras Carnival Adventure and if you would like to purchase it.
Please write your impressions and thoughts about Doras Carnival Adventure on the reviews page, and they will be published here on this page.