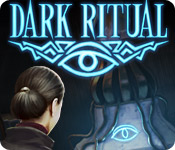 Dark Ritual Game Overview
Step into the shoes of a detective who has been approached by the FBI to take over a terrifying case and stop a Dark Ritual! Explore Dr. Seymour Brown's spooky mansion and see what the crazed scientist has been experimenting with! Track down your missing sister and help Agent Johnson stop the insanity that has taken over Blackwood Mansion in this intriguing Hidden Object Puzzle Adventure game.
Incredible graphics
Fantastic gameplay
Find your missing sister!
Here at White Fuzzy Games Dark Ritual is available for free download. You can play the downloaded copy of the game with full experiance for 60 minutes for free. After that you are to decide whether you liked Dark Ritual and if you would like to purchase it.
Please write your impressions and thoughts about Dark Ritual on the reviews page, and they will be published here on this page.