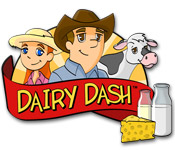 Dairy Dash Game Overview
Ah, life on the farm, what could be more relaxing? Just about anything according to the Smith family. Help these city slickers get a grip on the family farm as the hustle and bustle of Diner Dash goes pastoral. Care for cows, goats, chickens, and sheep while growing tomatoes and more. You`ll enjoy the occasional glass of lemonade and fill an order or two for Flo. Its all in a days work in Dairy Dash .
Time Management adventure
52 lively levels
Run the dairy farm!
Here at White Fuzzy Games Dairy Dash is available for free download. You can play the downloaded copy of the game with full experiance for 60 minutes for free. After that you are to decide whether you liked Dairy Dash and if you would like to purchase it.
Please write your impressions and thoughts about Dairy Dash on the reviews page, and they will be published here on this page.