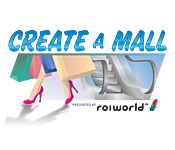 Create A Mall Game Overview
Become a world-class mall developer by designing and creating exciting malls with hip and exciting stores. Upgrade these stores to attract new customers, earn more money, and purchase the most fashionable clothing, jewelry, and office decorations around! Hire workers, and build new stores to keep your clientele happy. Create A Mall in this fun and fast-paced Time Management game to climb your way to the top and become a mall mogul!
Intuitive gameplay
Customizable outfits
Create A Mall to succeed!
Here at White Fuzzy Games Create A Mall is available for free download. You can play the downloaded copy of the game with full experiance for 60 minutes for free. After that you are to decide whether you liked Create A Mall and if you would like to purchase it.
Please write your impressions and thoughts about Create A Mall on the reviews page, and they will be published here on this page.