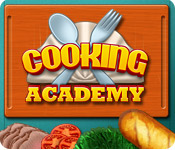 Cooking Academy Game Overview
Grab your oven mitts and don your chef`s hat! Cooking Academy is the game that places you in the kitchens of a prestigious culinary school! From eggrolls to pancakes, to crème brulee, it`s up to you to prepare over 50 different recipes! Learn interesting trivia about food while mastering the skills of chopping, kneading, mashing, flipping, frying, and much more! Unlock new recipes and trophies by passing your cooking courses and exams. Are you ready to be a Master Chef?
Unique recipes.
Exciting courses to master.
Become a Master Chef!
Here at White Fuzzy Games Cooking Academy is available for free download. You can play the downloaded copy of the game with full experiance for 60 minutes for free. After that you are to decide whether you liked Cooking Academy and if you would like to purchase it.
Please write your impressions and thoughts about Cooking Academy on the reviews page, and they will be published here on this page.