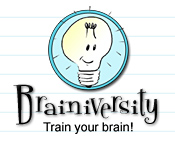 Brainiversity Game Overview
Brainiversity is a brain training game designed to stimulate your brain! The 16 different mental exercises cover language, memory, math, and analysis. Keep track of your daily workouts with the Daily Exam mode, and compare your results with other users. Your host, Edison, will keep you informed of your progress, share fun scientific facts, and occasionally make jokes. Keep your brain young and healthy with Brainiveristy!
Unique activities.
Track your progress.
Fun facts and jokes!
Here at White Fuzzy Games Brainiversity is available for free download. You can play the downloaded copy of the game with full experiance for 60 minutes for free. After that you are to decide whether you liked Brainiversity and if you would like to purchase it.
Please write your impressions and thoughts about Brainiversity on the reviews page, and they will be published here on this page.